WELCOME
and THANK YOU for your interest in the person behind the 'Let go – Move on' approach!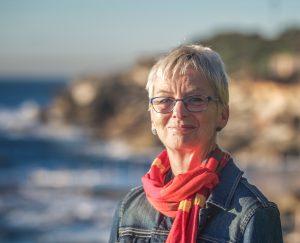 My name is Margo.
I grew up  in a small town in Germany as the oldest of five daughters. From an early age, I learnt and got used to feel responsible for others and their needs.
Over the many years of my professional career – in managerial positions across different industries and by running my own businesses – I gained broad experience in cooperating with and leading others.
I also learnt a lot about change.
Moving from one position to the next required adjustment:
letting go of those sets of knowledge and skills, working routines and guidelines that were no longer relevant,
and building up other or additional sets required in the new working environment.
Working and studying in foreign countries has also helped to expand my professional capabilities and my personal strengths.
My husband and I moved
from Germany to South Africa,
from South Africa to Hong Kong,
from Hong Kong back to Germany,
and finally from Germany to Australia.
Each move was a significant transition for us, and it always took us some time to get used to our new life. Every time we left a place, we left a lot behind – our home, our families and friends, our lifestyle and living conditions -, and at the new place we started up from scratch.
Prior to our departure to Australia, I ran my own business in Germany.
We, I had a team of experienced people at my side, offered a broad range of services for private households: Supporting seniors in their daily lives, taking care of children during the absence of their parents, house-cleaning, and household-organising. Having personal relationships with clients in more than 250 households helped me to learn a lot about the needs and requirements of people in their private environment.
After our move to Australia in 2014, I decided to continue working with people in their homes, this time as a professional home organiser. I really enjoy making use of the personal experience I gained during my own life transitions.
Based on my experience and knowledge, I've developed a very systematic and effective approach, the 5-Step 'Let go – Move on' program, which now helps to make sure that my clients successfully manage to let go of physical and emotional clutter, so that they can move on with their life, with confidence.
As you now know a bit about me, give me the chance to get to know you! … Let's get in contact.